Quince
name of author: Raul

Scientific classification:
Kingdom: Plantae Division: Magnoliophyta - Class: Magnoliopsida - Order: Rosales Family: - Rosaceae Subfamily: Maloideae - Genus: Cydonia - Species: Cydonia oblonga

Nutritional value per 100 g (3.5 oz) - Energy 60 kcal 240 kJ - Carbohydrates 15.3 g - Sugars 12.53 g - Dietary fiber 1.9 g - Fat 0.10 g - Protein 0.4 g - Water 83.8 g - Vitamin A equiv. 40 µg 4% - Vitamin C 15.0 mg 25% - Iron 0.7 mg 6% - Magnesium 8 mg 2% - Phosphorus 17 mg 2% - Potassium 197 mg 4%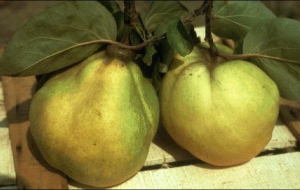 Quince or Cydonia oblonga, is the sole member of the genus Cydonia and native to southwest Asia, Persia (Iran) and naturalized in the Mediterranean region. The Quince is often described as apple or pear like and are of the rose family (genera Chaenomeles and Cydonia). It is a small deciduous tree, growing 5 to 8 m. tall and 4 to 6 m. wide and related to apples, having pome fruit, which is bright golden yellow when mature and pear-shaped, 7 to 12 cm long and 6 to 9 cm broad. They prefer a rich soil in a moist area, but will tolerate lesser. The Quince is susceptible to fireblight disease caused by the bacterium Erwinia amylovora.

The immature fruit is green, having dense grey-white pubescence which rubs off before maturity in late autumn when the fruit changes colour to yellow with a strongly perfumed hard flesh. The leaves are alternately arranged, 6 to 11 cm long, having densely pubescent fine white hairs. The flowers, produced in spring are white or pink, 5 cm. across, having five petals. The flesh of the fruit has an almost gritty texture and the taste is tart or astringent, even when ripe. When stored for several weeks the grittiness diminishes and the flavor continues sweetening. Quince can be used for a while as room deodorizers.

Quinces are commonly grown in central and southern Europe where the summers are sufficiently hot for the fruit to fully ripen in a mixed orchard with several apples and other fruit trees. In Slavonia, Croatia when a baby is born, quince tree are planted as a symbol of fertility, love and life. In Lebanon, it is called sfarjel and also used to make jam. In Syria, Quince is cooked in pomegranate paste (dibs rouman) with shank meat and kibbeh (a middle eastern meat pie with burghul and mince meat) and is called kibbeh safarjalieh. In Iran, Quince is called beh and is used raw or in stews and jam; the seeds are used as a remedy for pneumonia and lung disease. In parts of Afghanistan, the Quince seeds are collected and boiled and then ingested to combat pneumonia. In Pakistan quinces are stewed together with sugar until they turn bright red. The resulting stewed Quince, called Muraba is then preserved in jars and eaten like jam. Quinces are still widely grown in Argentina, Chile and Uruguay. In Mexico, Spain, Argentina, Chile, and Uruguay the membrillo, as the Quince is called in Spanish, is cooked into a reddish jello-like block or firm reddish paste known as dulce de membrillo. It is then eaten in sandwiches and with cheese, traditionally manchego cheese. In Portugal, a similar sweet is called marmelada. A similar dish exists in Dalmatia, Croatia and in Hungary.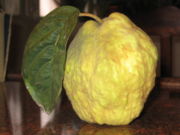 In the Canary Islands and some places in South America a Quince is used to play an informal beach toss-and-swim game, usually among young teens. When mixed with salt water a mature Quince will turn its sour taste to sweet. The game is played by throwing a Quince into the sea. All players race to catch the Quince and whoever catches it, takes one bite and tosses the Quince again, after which the whole process gets repeated until the Quince is fully eaten.
It's been speculated that the apple in the Garden of Eden was actually a Quince. In the Tudor and Stuart eras of England, Quince marmalade was considered an aphrodisiac.
Dried pits of the Quince fruit are used to treat sore throat and to relieve cough. The pits are soaked in water; the viscous product is then drunk like cough medicine. It is commonly used for children, as it is alcohol free and 100% natural.
Cooking with Quince: Quinces are used to make marmalade, spoon sweets, and jellies (they have a lot of natural pectin), pies or as additions to apple pies. Quince are delicious when cooked with meats. In Greece pork dishes are prepared with Quince, it is also good with lamb, turkey and duck. Quinces may be peeled, then roasted, baked or stewed. The term marmalade, originally meaning a quince jam, derives from marmelo, the Portuguese word for this fruit. Like so many other fruits, Quince can be used to make wine.
Raul on 10.22.09 @ 21:00 PM CST [more..] [No Comments]